In this section we  publish historical details and requests on old squadron comrades
We ask members / friends who are able, to provide relevant info.
Have a regular check and help if you can - Thanks a lot, Bill
Thanks to Friend of 55 Squadron Toby Kessell for this information on  his Grandfather Flt Sgt later WO Albert Harrison, who was RAF cook at Hinaidi in the between war days. He sends a Menu, which was prepared by Albert Harrison for four squadron members, returning to Blighty...
My grandfather (Flight sergeant/Warrant Office Albert Harrison 510612) was a chef at some point for the RAF. I'm currently trying to research his military career and find out where he was based during his time. We think he was in the RAF from 1934 until at least 1954 (he was awarded his long service medal)
Whilst looking through his personal affects after he passed away (1981) we came across several of the original menus that he served an amongst them was in for the No.55 Bomber Squadron from 1934. Bases that I know he was stationed at include Duxford, Old Sarum and Waterbeach but we think there were other too. Could this be from one of those? (It was Hinaidi ed.)

Any information would be amazing and please feel free to use the image for whatever you like.
Many thanks,
Toby Kessell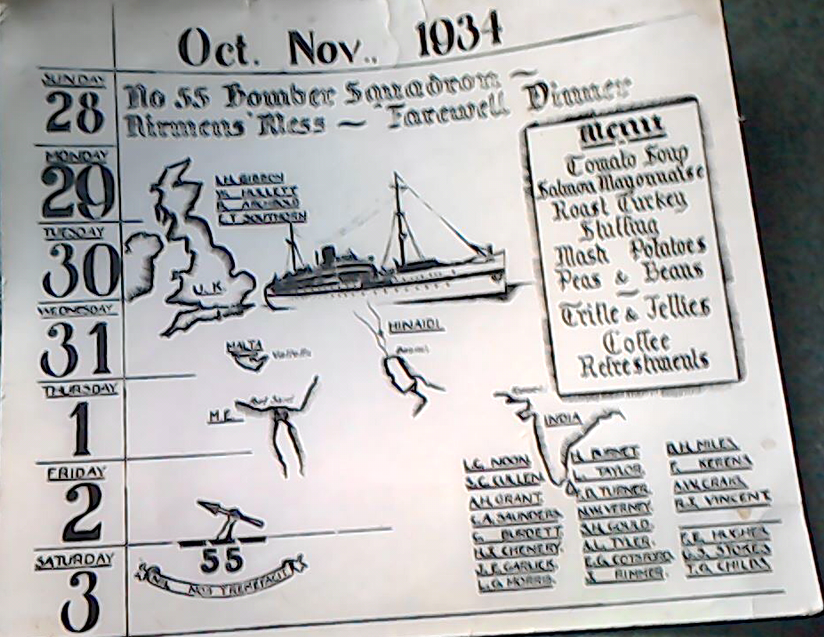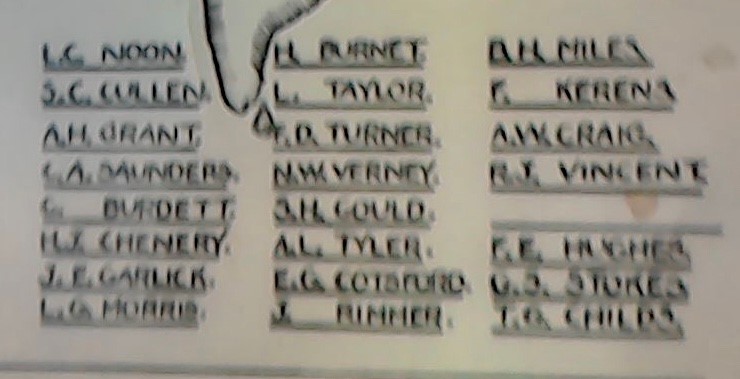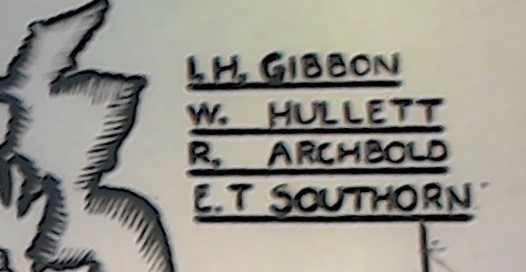 More-
He was Albert Harrison (nick named 'Harry' in the RAF) He was born in 1915 in Burnley Lancashire and became a flight sergeant and warrant officer later in his career. He also gained his long service and good conduct medals along with his ww2 victory and defence medals. 
Feel free to use much or as little information as you like. I attach a picture of him if you'd like that to go with it.
I have no idea whether he was attached to the 55's or was a catering unit? Just beginning to search for details about his military life as we know very little except a few places he was stationed in the 40's and 50's.
It would be great to have the password for the members section as it may also help with my research.
Thanks again for your time,
All the best,
Toby
The photo below comes courtesy of Friend of 55 Sqn, Graham Knight, whose Grandfather served with 55 Squadron in WW1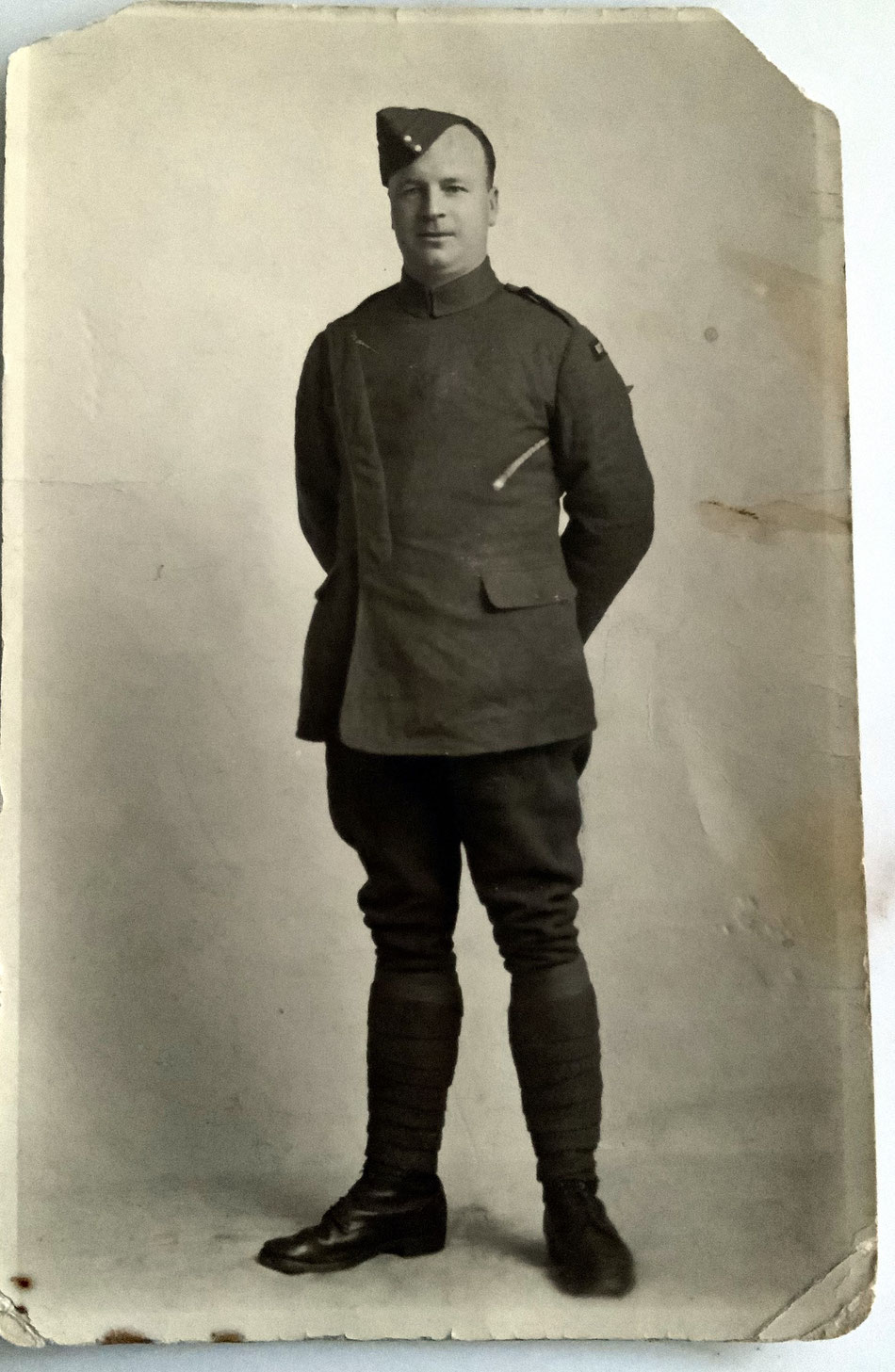 More details about WO Colin Pannell below from Friends of 55 Squadron member Andrew Cox
Success with the Payton enquiry below!  Check out the reply from AG Wright's daughter Janet...
Friends of 55 Squadron  member, Tim Cornish, sends us the following information, concerning two previous members of 55 Squadron.  He is also organising an exhibition of WW1 artefacts - read on for details - we will relay the date and venue when available.
Hello Bill,                     
                     Happy New Year, I trust yourself, your family and the rest of 55 Sqn Association enjoyed a good festive period? 
I have just come into possession of a Victory Medal, awarded to Lt Albert Charles Roberts, an observer with 55 Squadron. He was posted to 55 Sqn in France on 6th August 1918, later on the 16th August Charles was the Observer in DH4 F5703 being flown by 2nd Lt Thomas H Laing. They were taking part on a bombing raid on Darmstadt when they were shot up. Charles suffered from gun shot wounds and the aircraft was holed in the fuel tank which necessitated a forced landing near to Luneville. The aircraft was wrecked on landing.
Charles  was hospitalised with gun shot wounds to his head, left arm and left leg. He was returned by hospital ship to the UK on 24th August 1918.
Sadly not such a long career, 10 days at the Front at Azelot, but nevertheless an interesting story. 
I am in contact with a gentleman who has come into a large possession of RFC photographs & glass slides, numbering into the thousands. He has sent me one of a gentleman of 55 Sqn, see attached  (coming later, ed.)  Lt Sattim/Sattin? I cannot tell the name, sadly!
I am part of a small 5/6 person team who has over the last 18 months put together the largest Royal Flying Corps exhibition in the country, under one roof. I can forward you the details of when it will be open, most likely April time. These are all original artefacts, uniforms, medals, dating from Air Battalion era to the RAF in Russia, 1919. I am sure you will be most impressed.... 
Best for now
Tim
(Duncan Spencer below was probably involved in the collision on page 154/155 of the squadron typewritten history in the History section. If you have any further knowledge  - squadron joining date etc. please contact author Philip Froom)
Hello Bill,
I wonder if you would be able to help me please?
I wonder if you would be able to assist me with any information on this WW2 member of 55 Squadron please? As you can see, I have managed to find out some background on him.
However, what I am lacking (and very keen to understand) are the circumstances of his capture (was he shot down, or was he captured on the ground for example)?
Phil
Name: Duncan Hugh Spencer
Navigator: 55 Sqn. TAF ITALY
POW: Possibly from 18th October 1943 (any records relating to Squadron losses on or around that date?)
Location: STALAG LUFT I Barth
Poss Born 6 August 1920 in Dover Kent – if him, taken from the death record listed below.
Enlisted as O/R number
1443615
(numbers
1425001
to
1474999
indicate he enlisted in April 1941 in Cardington).
He was later commissioned effective from 12th December 1942 which was announced in Supplement to The London Gazette, 27 July 1943, Issue 36108, page 3387.
Supplement to The London Gazette, 29 October, 1943, Issue 36226, page 4769 announced that - Pilot Officers (Probationary) to be Flying Officers on Probation (War substantive) effective from 12th June 1943.

Supplement to The London Gazette, 12 January, 1945, Issue 36888, page 350.

Promoted from Flying Officer to Flying Lieutenant (war substansive) as of 12th December 1944
Supplement to The London Gazette, 13 June, 1946, Issue 37598, page 2817 announced that – Flight Lieutenant D.H. Spencer (134580) RAFVR had been mentioned in despatches.
Prisoner of War: Number 1452 in Camp Stalag Luft 1 (camp number L1), location Barth Vogelsang, Germany. (Source National Archives: AIR 40/263, WO 392/18, AIR 20/2336, AIR 392/8
 Stalag Luft (North) recommendations lists May 1944-Dec 1945 (Air 40/268)
Received 10 June 2019
Dear Sir,
I am researching the life of my Great Uncle Sergeant George Clarence Curle of the Royal Australian Air Force, Service Number 207732. George was originally enlisted in 1939 with the RAAF 3 Squadron. He was 25 years old. 
It wasn't until recent years that the service records and story surrounding George's death were revealed. I decided to make inquiries with the National Archives and at that point his records were marked secret and had remained sealed. 
Sadly my Grandparents, Great Grandparents and many of our family never knew the true story of George's death. They were told he had died as a result of a gunshot wound that had been accidental, but believed it had been under different circumstances.
George was attached from RAAF 3 Squadron to the RAF 55 Squadron  on the 10th of February 1941. On the 12th of March 1941 George was accidentally shot by an RAF member while in his cabin aboard the houseboat SS Puritan in Cairo. 
The man who accidentally shot George was a Sergeant Harrison of 55 Squadron, also present when George was shot were Sergeant Cuthbert Howe, Sergeant George Basil Rand and Sergeant Sydney Bennett. All were members of 55 Squadron. The statements show the men had come to fetch George for a night out when the recently acquired pistol that Sergeant Harrison was showing the others discharged and shot George in the stomach. George died as a result of his injury 5 days later on the 17th of March.  
I am wondering if there are any documents or photographs that mention George held by 55 Squadron. I am hoping to compile a book of sorts to hand down to my sons. I am also hoping to visit his grave in Cairo someday. Unfortunately no family member has ever been in a position to do so before.
Hoping you may be able to assist in some way.
Thank you.
Kind regards,
Wayne Curle 
wcurle7@gmail.com
30 John Penn Drive
Tomakin NSW 2537
Australia
From: P & J Stanley

Subject: Squadron leader R D M Evers DFC

I wonder if you can help me. I would very much like to contact the families of my father's crew when he was shot down on Ocotber 6th 1942 whilst serving with 55 squadron  in north Africa. It is mentioned on p. 189 in Bomber Losses In The Middle East and Mediterranean vol 1: 1939 - 1942.
Following his order for them to bail out, they were taken POW. My father's escape hatch jammed but he brought the plane down in NML under heavy enemy fire and was eventually rescued. The plane was so badly damaged and so close to the enemy line that the Allies blew it up the following day. And a few days after that he flew in 12/14 raids by 55 squadron in the battle of Alamein!!

I have his 3 pilot's log books which I am taking to RAF Hendon next week - they have expressed an interest in scanning/copying them.

He captained Worcestershire cricket on 5 occasions, won the county squash championship two yrs before and two yrs after the war, played rugby for Moseley and was the youngest member of the Cambridge Vandals Tour to Canada and the States, playing in both the cricket and rugby matches.

I have written his biography which includes +/- 80 of his wartime letters to his family in Stourbridge and also pictures of his crew.
I would love to contact any of the descendants of his crew, namely:

W/O H. R. Callender RNZAF
Sgt J Hall 
Sgt R J Wilson
(Latter two depicted below - also see the latest shots in the Historical Photos section. ed.)

If you can help or have any suggestions I would love to hear from you.

With kind regards,

Jane Stanley
If it helps, Sqn Ldr Evers attended the 55 Sqn Association re-union in the Savoy Tavern, London on 22.November 1982
My Dad Norman Birchall was on 55 Squadron at Marham and flew on the Victor.
That is what I am named after - he was in Canada when I was born.
We lived at 32 Oak Avenue.  I am trying to find out more of my Dad's life in the RAF, as he passed away when I was 19.
If you remember Norman, please send any info to:  Vikki Beaton:   beaton.vikki@googlemail.com
I have an idea he was Chief Tec
Bill Palmer
Sgt Ernest Clare DFM Observer 55 Sqn WW1
Ms Jean Noblett and her daughter Leann have written to inform us that they are preparing a short history of Sgt Ernest Clare, who earned the DFM while flying on 55 Sqn. in the First World War.
By a lucky chance they recognised in a picture on our website, his pilot, Capt J R Bell, in a picture of 55 Squadron aircrew while stationed at Azelot airfield,

(This is included in our reproduced story The Johns Connection by Michael C. Armstrong about the author, W E Johns - who wrote the Biggles series - provided to us by Dave Maloney - and now in the 55 in the First World War section.)
Ms Noblett would like to know how Sgt Clare earned his DFM, as according to the book Chronicles of 55 Squadron by J R Miller, who was the Adjutant during the time that 55 Sqn was stationed at Azelot Airfield, he was the only Observer at the time of his book, to be so decorated.
This was pretty much the period, when Maj Gray and Major Silly had been Squadron Commanders, By great coincidence, information on Maj Gray is also being sought – by his great nephew Tim Cornish – see below.
Ms Noblett has kindly sent us some shots of the 55 Squadron Observers at Azelot and of Sgt Clare. These will shortly appear in the 55 in the First World War section, where they will be a worthy addition to the above mentioned photos. 
If you have any information or ideas which can help track down the reason for the DFM or have any information about the other airmen in the pictures from this dynamic and brave time, please let me know.
Thanks, Bill Palmer

Hello, I write from Italy, my name is Giovanni Brunetti. I would like to have more information about the
presence of the squadron in Cecina, Tuscany. Can you help me? In particular I seek information about the airman William Geddes Fielder.
Thank you so much for your collaboration.
gbrunetti4@gmail.com
My grandfather, Frank Linford, served as an Armourer with 55 Sqn from 1940-45 throughout the western desert,
malta and Italy. I am trying to find out more about his time in the war and if (by some miracle) anyone has any
photos of armourers in 55 sqn. His number was 1352532.
lizlinford92@gmail.com
Hello, my uncle Colin Elliott Pannell served with 55 in the Middle East during WW2, Colin was a Warrant Officer RAAF he was a Wireless Op Air Gunner flying the Baltimore Bombers, I am hoping there may be a photo of Colin with his crew, I have a couple photos, his badges and AG Wing and RAAF Wireless Op Badge, Colin was killed in a car accident in 1964
Andrew sends us more details:  Uncle Colin Pannell RAAF flew with 55, i posted up a while ago about him, further info has come to light, Colin had to ditch a few times, one ditching he got burnt, his last ditching found him in his dinghy together with a German pilot he had rescued - luckily picked up by the RAF asr first, (Colin  ended up flying asr in the Walrus).
Andrew Cox
bowes1873@gmail.com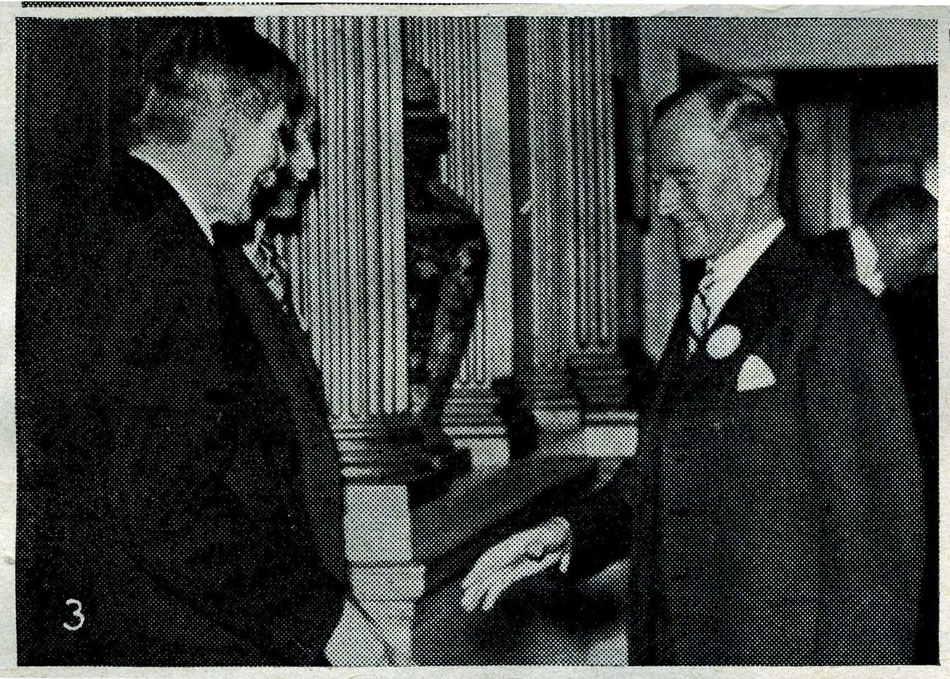 Above, seen at the RFC re-union in 1949 is AVM Gray, who as Major Gray was the 55 Squadron "Boss" in 1918 during its famous days in France as a long range Bomber Squadron. He was also present at the 55 / 57 Squadrons 50th anniversary celebrations in 1966. His great Nephew, Tim Cornish has requested any information about his period on 55 Squadron, especially photographs.
Please forward any historical information to my email address. 
Thanks, Bill Palmer
Photo above from The Aeroplane in 1949

Thanks to Warwick, Everard Payton's son, I was able to research 55 Squadron's use of the Boston. It is pretty clear that he flew on the Squadron during the Hassani period. Good shots of his fellow crew members too.  Does anybody recognise him or them?
Well we have had some success! The following mail and photo came from Janet Wright, daughter of AG Donald Wright:
Good Morning,
I hope you don't mind me contacting you but I have been trying to find former flying crew of my late father, Air Gunner Donald Wright who was in 12 squadron and 55 squadron Greece. I found your site yesterday and was happy to find him with his friend Everad Earnest Payton, who they all called  Reg/Norma .
In the first pic my Dad is first left (Top photo by the Boston,  Ed.) the second is in Venice - my Dad is sitting next to Everad (Photo below with Crew,  Ed)  third pic my Dad is top right (Second shot above in Hassani, Greece, Ed) , I thought they could be used on your site.
Regards
Janet Wright
Two of the shots mentioned were already on the site - Janet's mail has been forwarded to Warwick Payton.