This mail just came from Journalist Kevin Wright, who is hoping to interview Members involved in the Falklands tanker campaign:
Dear 55 Squadron Association
I'm an aviation historian/writer and one of the magazines, Aeroplane Monthly, has asked me to write a piece for them on Victor MRR missions during the Falklands War. They are planning a special edition to mark its 40th anniversary.  
I would like to locate some former Victor 55 Squadron (and 57!) aircrew/ground crew members who participated in the missions and who might be prepared to talk with me.  I would also like to find out more about the equipment fit used and any relevant pictures would be gold dust!
Do you think you could assist me with this? The process would just involve agreeing a suitable time to have a chat by phone or video link with anyone willing to help. Then once I have the piece written up they can check it to correct any mistakes I have made and just ensure they are happy with what I have written.
I would be very pleased if you could pass the contact details below to any member of your group that you think might be willing to help.
If it would be helpful, I can send you a list of recent publications or a few examples just to give an idea of past work.  I would be working to a deadline at the end of this month. If you have any questions please just let me know.
Kind Regards
Kevin
 =============
Kevin Wright PhD, Rahaniska, Kilkee, Co Clare, Ireland, V15 NR27
Tel: (Mob) 00 353 89 4316560
web: https://kpwright.wixsite.com/kevins-aero-images
We have received the following request from display organiser Stephanie Lawton, from the Solway Aviation Museum.
I ask our Operation Corporate crew members to contact her directly, as below. I am sure, that all inputs, including ground operation stories will be welcome.
Thanks for your help,     Bill.
Stephanie Lawton / Interpretation and Display Officer
Solway Aviation Society,
Aviation House,
Carlisle Lake District, Airport,
Crosby-on-Eden,
Cumbria, CA6 4NW.
UK Charity Registration number 1034715
Company Registration number 2731967
 Operation Corporate
I am putting a display together for next year on the 40th Anniversary of the above Operation, and I am looking for stories from the crews who flew out from the UK in the H.P Victors to Ascension Island, and on the Black Buck Raids.
Also looking for any images of the above.
I would be grateful for any help in my quest.
Stephanie Lawton
Tel: 01228573823                                    Web: www.solway-aviation-museum.co.uk                    EMail: stephlawton2018@gmail.com     
Our member Oliver Bridgeman, who was a JT on 55 Squadron back in 1982-84, is organising a re-union of 55 and 57 Squadrons in Kings Lynn on 16. April 2022, as it happens, a couple of weeks before the 40 Year anniversary of Operation Black Buck.  The Marham Heritage Centre will be open to all on that day and a dinner is planned for the evening at the Duke's Head. 
The interest is great and we hope to increase it with this announcement.
Oliver will be posting a notice with details in the Member section box and we'll put out a reminder in early Spring.
Great news, I think and I hope the restrictions will allow max attendance.   Thanks Ollie.
Oliver's email is of course available on the Member List on the Member section.
Hinaidi Cemetery Iraq.    Initial success for Steve Johnson
Author and Friend of 55 Squadron, Steve (Buster) Johnson, runs the Nr6 Sqn (like 55 Sqn stationed at Hinaidi between the wars) website.   He researched the military graveyard there and discovered, that the site is in urgent need of restoration.
See the Projects section, where Steve writes an update on the situation, having worked hard to convince the powers that be to get the site repaired and has some initial good news.He has also kindly provided us with a list of deceased 55 Squadron members buried at the Hinaidi site, which is posted in the In Memoriam section.
There is a link to casualties under Hinaidi in the Links section.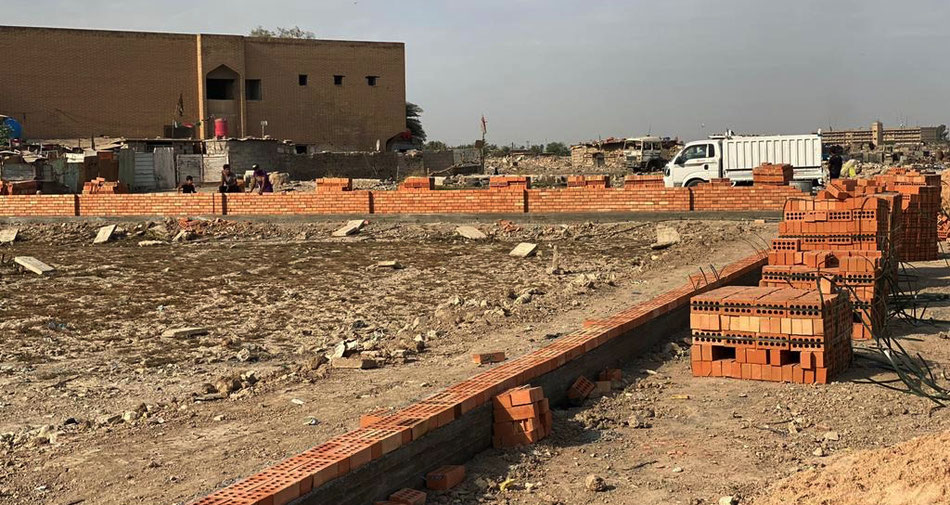 The Squadron Association Banner which was found by Adam Hammett has now been delivered to the Heritage Museum at RAF Marham, where it was received by ex CTs Brian Martin and Steve Parker, who were Crew Chiefs on 55 Squadron photographed here with Adam Hammett inside the museum. 
And photographed outside the Heritage Centre with Gp Cpt Alistair Sutherland, Flight Commander on 55 Squadron and later Station Commander at RAF Marham, who joined the Chiefs for a celebratory lunch.
The banner is evidently hand painted, is in superb condition and may be seen at the museum.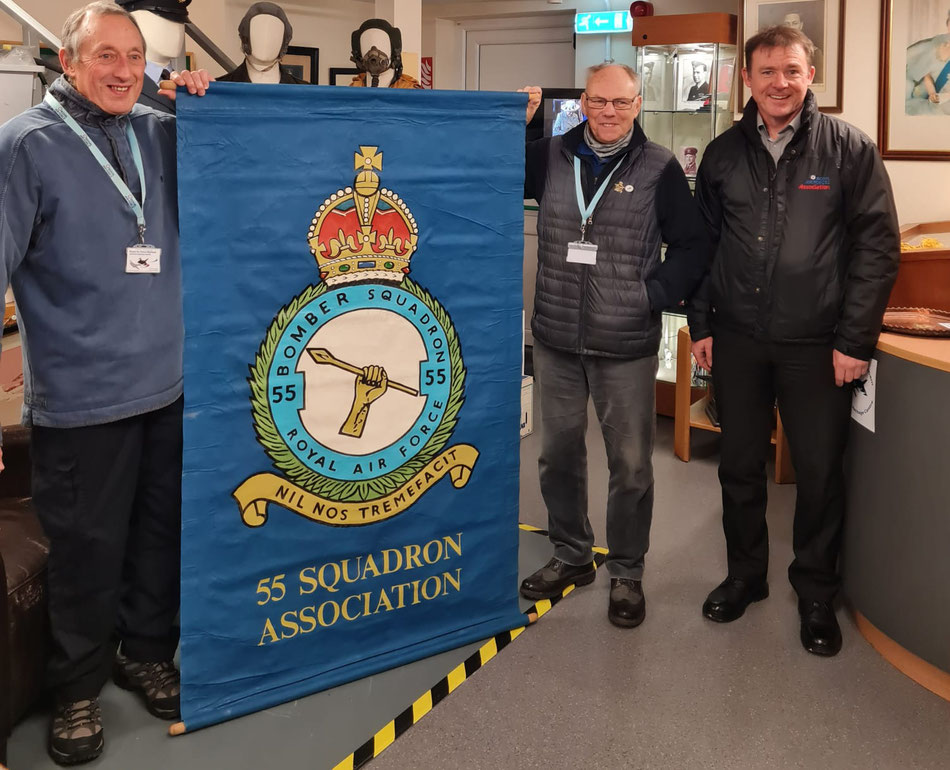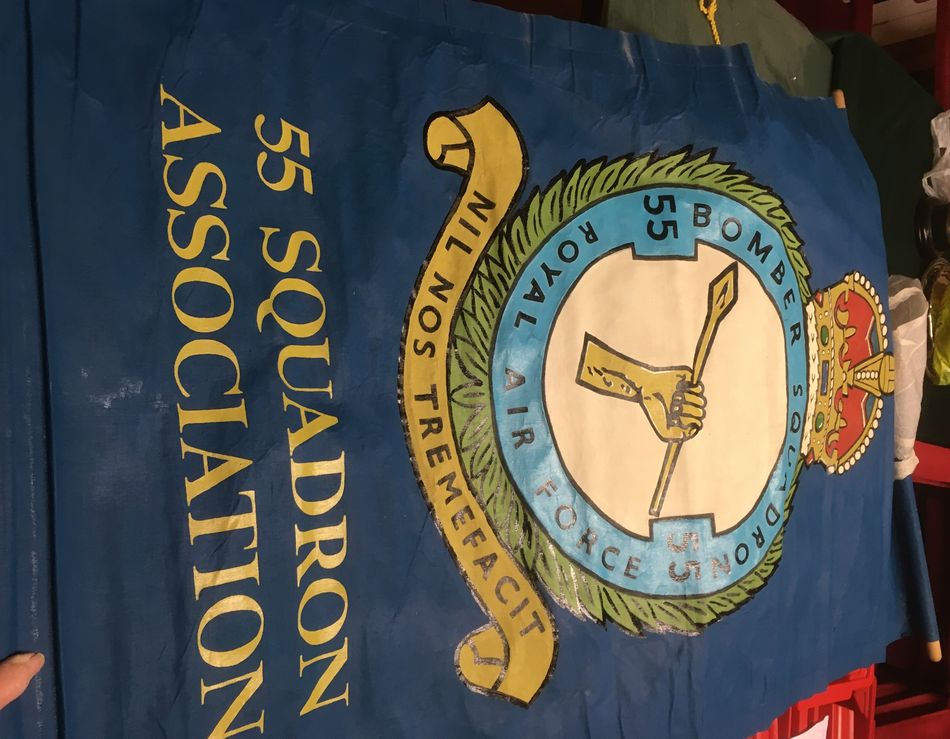 The Original announcement:
We have received the very good news of the discovery of a 55 Squadron Association banner by Adam Hammett, of the RAFA.
It has been agreed, that the banner will be handed to the association to be used at association functions (which we still hope to achieve at some point...) and kept for display at the RAF Marham Museum. Here is Adam's letter:
Good afternoon,
I have recently uncovered a 55 Squadron Association banner (see attached) within a loft space at a property.  It is hand painted onto a heavy duty lined fabric with wooden poles top and bottom with yellow cord for hanging purposes.  I have not measured it but guess it would be around 1m wide with a 1.5m drop.  It has the kings crown so I guess this means that dates it pre 1952 (long before 1952 with the title "55 Bomber Squadron, ed).  I would like to find out more about this items history and ideally locate a suitable home for it.  Any assistance with groups or individuals that you believe could help me with this I would be most grateful for.
Regards,
Adam
Adam Hammett
Estates Project Manager RAFA

Friend of 55 Squadron, Ray Holloway, who is a volunteer guide at RAF Cranwell, informs us of the store of historical 55 Squadron items there, some of which were kept in the 55 Squadron crew room during active days. 
There is also a new research centre opening. In order to arrange a visit please contact new Friend of 55 Squadron, Flt Lt Mike Frankel, the OC;  Michael.Frankel213@mod.gov.uk  who can arrange permission to enter the base. 
Below are some of the items presently on display. Here is a great opportunity for Members and Friends of 55 Squadron wishing to research past members of the squadron. Many thanks to Ray and Mike for this information.
Member Brian Martin, former CT on 55 Squadron, who is engaged with the RAF Marham Air Historical Centre (AHC), is collaborating on  a book about the Tankers at RAF Marham.  He is asking for all stories, anecdotes and photos to make this book a success - particularly about the 1990s and the Gulf War.  Please send your yarns and memories to Brian (on our Member list) or to Ken Delve for the AHC; historian@rafht.co.uk 
Faces & Queries section (previously Where are They Now?)  often has something new in it - sometimes people write in with a story, rather than an enquiry, which can still help people to find helpful information.  None of us are getting younger so if you can help with an enquiry or have something to add, please let us know. Thanks.
PS. Have a rummage through your old photos - I just did and was able to solve one query...
The Faces and Queries section is becoming more populated - especially from the time that 55 Squadron was in Iraq, between WW1 and WW2 - good news for for Friends of squadron members wanting to exchange information.  Recent additions: Sgt Ted Ettridge, with 55 Sqn in 1937 "Mesopotamia", Flt Sgt (WO) Albert Harrison, who was cooking at Hinaidi in those difficult days.  The Adjutant and pilot (later) Gp Capt J O W Oliver was with 55 Squadron at Hinaidi.  Air Gunner SAC Leslie Rogers was also at Hinaidi with 55 Squadron. His son in law Ben Lovegrove has an excellent website of his pictures. Details in Faces and Queries and contact via the Friends of 55 Squadron list in the Member section. Also there are quite a few people wanting information about 55 Squadron's time in North Africa and Italy - Boston and Baltimore days and the legendary Squadron Commander Cookie Leon.
Well, perhaps not brand new but new to a few of us - Bob Tuxford  wrote a book a couple of years back about his experiences in the Tanker World,  called Contact!  This includes  Bob's take on the Blackbuck Falklands raids involving great numbers of Victor Tankers and one Vulcan bomber.
Copies are available online and through the Publishers, Grub Street.