Have you changed your email address?
Have you let us know?
If not, that is why you are not hearing from us lately - and why other people on the list can't contact you...
Please inform us ASAP. Thanks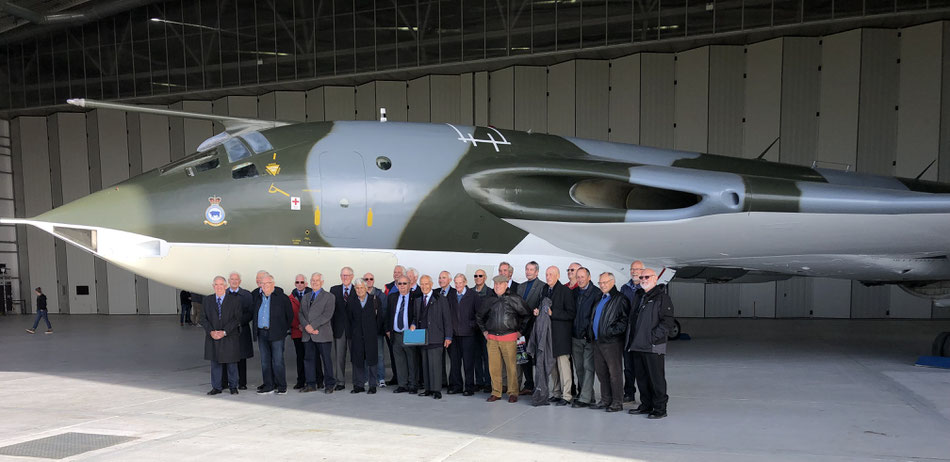 Private Viewing of XH-648 at IWM Duxford - Monday 24.October 22
Thanks to a kind invitation from Lauren Moore, Project Manager for the renovation of XH-648 at the Imperial War Museum Duxford, the members, some with their ladies, were able to enjoy a private viewing with welcome warm coffee on a rather cold rainy day. 
There was a good mix of ex 55 Sqn engineers and aircrew, who were also able to chat to the on-hand technical staff, who had taken part in the years long renovation work since XH-648, the last remaining 2 point tanker, was pulled in from the cold...
We have been able to follow the course of this renovation thanks to the photos and reports of members who had visited Duxford. See the reports in the Projects section.
A huge thank you is due to the renovation team, who have done a magnificent job. The aircraft looked new and stood with opened bomb doors to demonstrate the forward and rear bomb bay tanks. 
The cockpit was shut but later, on the arrival of Bob Tuxford was opened to the remaining guests.
Apparently an attempt had been made to tow XH-648 outside but she hadn't moved (parking brake?)
Alistair Sutherland, ex 55 Sqn Flight Commander but later ex 57 Squadron CO, was in two minds about the decision to finish XH-648 in the 55 Squadron colours, as she had flown for both squadrons, albeit only for 11/2 years on 57.  Alistair tended towards 57 colours but put a brave face on it in the company of the majority...
A good time was had by all and now XH-648 will be on public display. She is in good company amongst some of the most famous aircraft ever flown. If you haven't seen her yet, a trip to Duxford is highly recommended.
Private shots Below L to R: The "office" with its streamlined  wind shield - Some of the ladies in a sunny interval - Side view of assembled company - On the viewing balcony - After the cockpit was opened - The famous folding undercarriage - The Marham Bull - Yarn by the bomb bay - An Australian visitor a month later - Mike Lawrence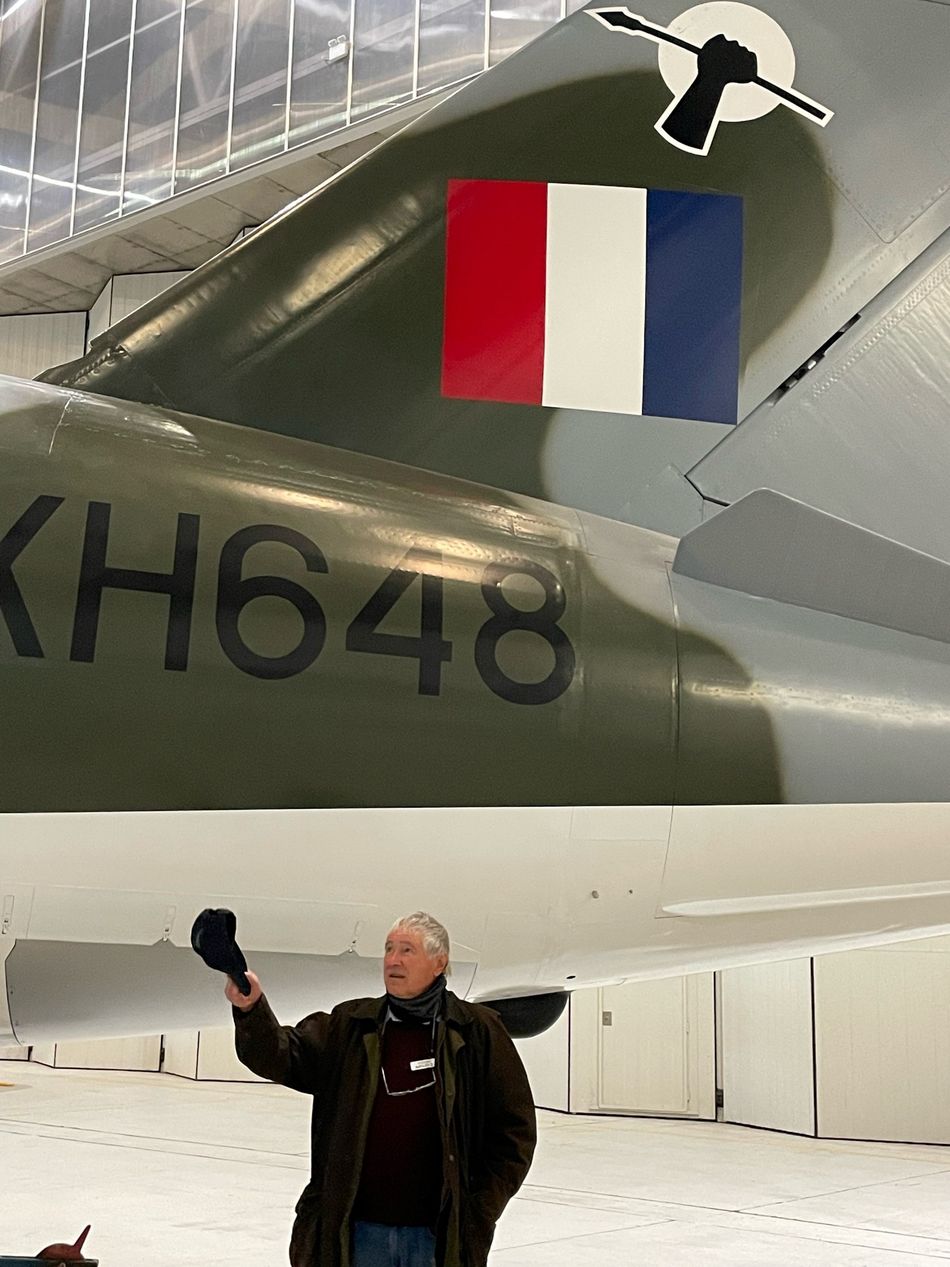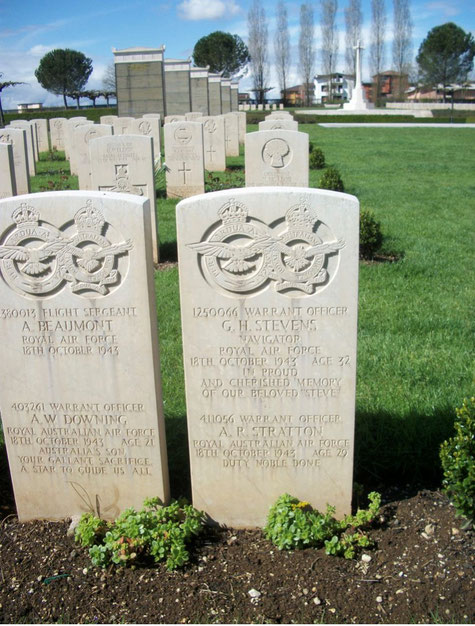 We have received an enquiry concerning 55 Squadron Navigator WO Stevens, who, along with other 55 Squadron members was involved in the collision during a raid on Isernia, Italy in WW2. See this query and others on the Faces and Queries section, where there is also a copy of the official accident report.
Some members, including WO Stevens were killed in this collision, others managed to escape by parachute.
There are other relatives who are/were concerned on our Friends of 55 Squadron list in the Member section.
Relevant requests are on the Faces and Queries section.  If you make contact with each other, we would really appreciate any facts to emerge to present on this website.
Good luck and Thanks, Bill Palmer
Member Brian Martin has sent some recent photos by Pete Biggadike of 214 Sqn of the initial rollout of XH648 - the last two point Victor tanker - now in the Projects section. She looks pretty good even without the wingtips and T tail...
Dear Bill,
The Black Buck 1 fortieth anniversary was celebrated over the weekend 30th April / 1st May 2022 at RAF Waddington. Rounding up the Victor troops was Bob Tuxford, Flight Commander No. 55 Sqn and Captain of "White 2" representing Marham, and Air Cdre Simon Baldwin, former Officer Commanding No. 44 (Rhodesia) Sqn representing Waddington. The whole weekend was a great success, and it was wonderful to 'make contact' with all the Tanker participants once again. 
With most people staying at the Damons Hotel in Lincoln, I planned a Friday night rendezvous at the hotel for those who wanted to make a long weekend of it. I am very pleased to say that a whole formation of personnel turned up for Happy Hour - kick starting the weekend in classic style. Amongst those renewing acquaintances, some for the first time in forty years, were Bob & Eileen Tuxford, Alan & Alison Bowman, Martin & Wendy Todd, Bill & Liz Lloyd, Badger & Midge Brooks, Andy & Julie Barrett, Paul & Sharon Mulcahy, Glynn & Theresa Rees, Tony & Margaret Beetlestone, Tony & Rose Angell, Taff and Angela Bland, Tony & Sarah Inglebrecht, Gary & Sue Weightman and a few others flying solo - Steve Biglands, Mike Wood, Dick Evans, Dave Barradell, Norm Christie, Simon Hamilton and Terry Anning.
Saturday afternoon began with a series of events on the base, which gave us an opportunity to meet up with many other faces from the past. Dick Russel was there, courtesy of his son Guy who did the driving, as was Jeremy Price similarly assisted by his son Jonathon. One of our former ground crew, David Bragg and his wife Pamela, took the opportunity to hand out to the veterans knitted scarves in South Atlantic Medal ribbon colours. David informed us that a 5th generation Falkland Islander called Sarah had taken it upon herself with her knitting group to make and distribute to all those involved in the return of the Falkland Islands these beautiful scarves, all numbered individually. Other former ground crew engineers who joined us over the weekend included Rob & Andrea Parlett, Brian Barker & Ms Kate Stacey and Steve & Christine Parker.
In the evening, we all assembled in one of Waddington's hangars for a Black-Tie dinner. Twenty-six Victor and 25 Vulcan veterans along with their wives made up half of the richly decorated tables spread across the hangar floor. Seated at the top table was the Station Commander Gp Capt Lorriman-Hughes and his wife, together with invited guests, and the BB40 Organising Committee members. Making up the honoured guests at the top table was the former Station Commander Gp Capt John Laycock who, alongside Simon Baldwin, master-minded RAF Waddington's preparation for war back in 1982.  Alongside the six Victor Tanker tables was a similar number of Vulcan tables. Seated with Martin Withers' group was the author of 'Vulcan 607' - Rowland White and his wife Lucy. 'Monty' Montgomery and John Reeve headed up two more of the 'Tin Triangle' contingents together with some of their crew members. We all dined under the shadow of the famous Vulcan Bomber - XM607 - Martin Withers' mount during the first Black Buck raid. Only partially painted, she will receive her full 1982 livery over the course of the next few weeks. 
 Throughout the evening, we were serenaded by a Royal Air Force Band with a selection of familiar background music. The programme got under way with a welcome video presented by Dan Snow MBE. Dr Ben Jones, the senior lecturer in Naval History at Portsmouth University, then gave an overview of the Falkland Islands Conflict, and this was followed by an address from the Station Commander. Concluding the after dinner speeches was an address by Simon Baldwin who spoke of the preparations for war at RAF Waddington, followed by personal memories from Martin Withers, the Captain of Vulcan XM607 during Operation Black Buck 1. In a touching moment to conclude the dinner, Dick Russell was presented with a 90th birthday cake, which of course followed some 40 years after the very night of BB1 during which Dick celebrated (if that's the right word) his 50th birthday. We all gave him a rousing chorus of 'Happy Birthday', something he received with great aplomb.
The weekend's celebrations continued with a service of remembrance at the nearby International Bomber Command Centre on the Sunday morning. ACM Sir Michael and Lady Graydon graced us with their presence and unlike the Falklands Service at the National Arboretum, the weather at the Lincoln IBCC was kind to us for the outside service. A sole trumpeter from the Band of the Royal Air Force College sounded the Last Post alongside the impressive Spire standing as tall as the wingspan of the Avro Lancaster. A Pipe Major resplendent in full highland dress played a lament to conclude a very appropriate commemorative service. 
 The whole weekend was a wonderful occasion, marking a very significant anniversary in all our lives, and I would like to thank Wg Cdr Lisa Mullineux and her organising committee at RAF Waddington for making the Black Buck 40th an event to remember.
Bob
Bob has sent photos of this event, which are in the Member section following the April event below. ed
A very successful re-union of the tanker personnel from 55 and 57 Squadrons of all ranks and trades was organised by Oliver Bridgeman over the Easter Weekend.  
After a first Friday evening in the bar for the "bloods", the Saturday was given over to a visit to the Heritage Centre at RAF Marham, where amongst the many other attractions there was a presentation of  the excellently researched new book Marham's Tankers by Brian Martin and Stephen Parker  and other souvenirs including bottles of Tanker Gin were on sale...
The little museum is well worth a visit,  is packed with artifacts dating from way back in RAF Marham's  history up to the present and is a credit to the volunteer staff.
In the evening we all repaired to the Dukes Head hotel in KL, where after the first drinks the noise level reached an incredible level.  Ollie was fortunately able to make himself heard and direct us to the correct bar venue and then an excellent menu was served at the many tables.
There are pictures of the event in the Member section (which is in date order - scroll down...)
And - the 55 Squadron Association banner which has recently been restored to us was proudly on display - transported there from the museum by Bob Parlett.
Most of the guests stayed at the hotel overnight and the weather was friendly throughout.
As the noise level and the photos can testify, the event was a huge success - and left everyone wondering when the next one would be...
Thanks a lot for all the effort and enthusiasm Ollie!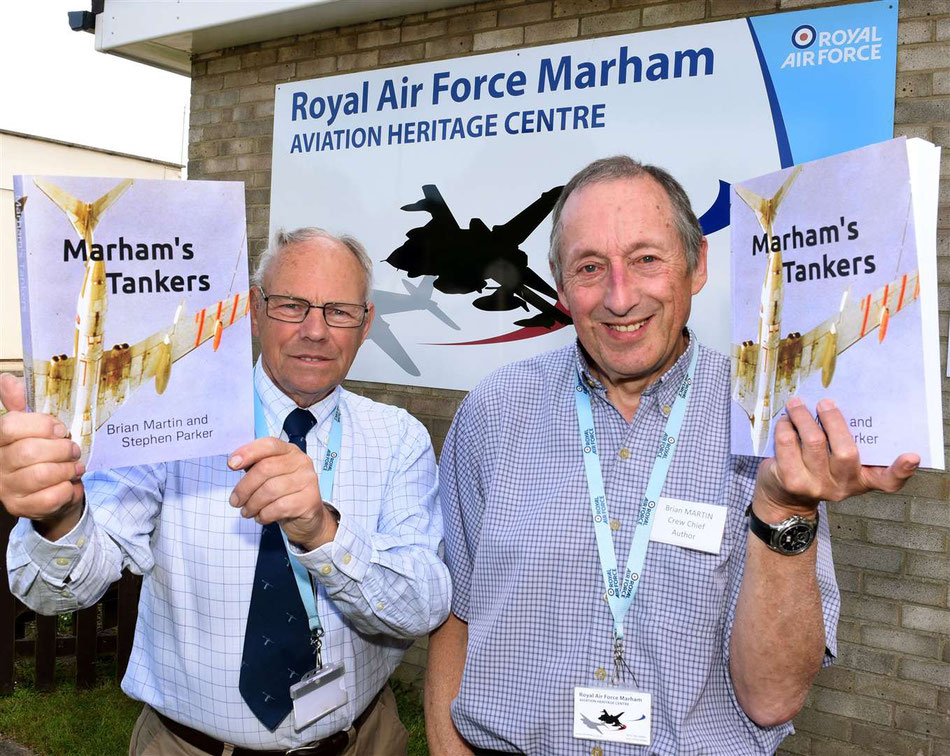 Member Brian Martin   (Rt above)  and member Stephen Parker  (Left) previous 55 Sqn CTs, who are engaged with the RAF Marham Air Historical Centre (AHC) have collaborated on  this book about the Tankers at RAF Marham. The stories, anecdotes and photos to make this book a success have come largely from contributions from tanker squadron members.  As the book is being published on demand, any corrections or new contributions can readily be incorporated. So if you haven't yet done so, you can still send your yarns and memories to Brian or Stephen (both on our Member list).
Below is a contact from instructor Michael Wild at 55 Sqn ATC unit near Woodford.  He is now on the Friends of 55 Squadron list in the Member section and can be contacted from there. We will include the unit on our mailing list and look forward to further news!      Bill Palmer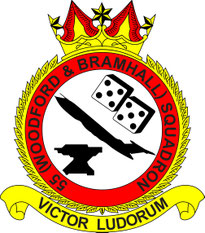 Hi Bill,
I have included an image of our squadron crest and some photos which may be of interest to you for the website. The full name of our squadron is 55 (Woodford & Bramhall) SQN ATC and we are based at our HQ - Leadership House in Bramhall Village just south of Manchester and quite close to what used to be BAE Woodford.
If the association is willing, we could set up a guest speaker evening about the "real" 55 Squadron. It would be  fantastic as I am sure the cadets (and staff too) would be very interested to learn about the unit. We also have access to Microsoft Teams so if none of your members prove to be close enough we should be able to host a virtual presentation if needed. 
I think young and kicking is an appropriate description of us. With COVID 19 most of our older cadets have gone off to university or lost interest so we have virtually rebuilt the squadron from the ground up with new recruits. 
Historically speaking our squadron is nearly as old as the real 55 SQN itself. I am not sure how clued up you are on the History of the Air Cadets but the organisation was formed on the 5th February 1941 from a pre-existing organisation called the Air Defence Cadet Corps (ADCC). 
The ADCC was formed in 1938 and the first 50 squadrons to form were given Founder status and have the letter "F" after their squadron number. Having traced things back I reckon that the squadron was formed within a couple of weeks of the formation of the ADCC as it can be found in the list of ADCC squadrons in the earliest issues of the ADCC Gazette. We have a photo of 55 SQN ADCC parading in Bramhall and as far as we know the squadron has paraded continuously ever since, even during the recent pandemic we never missed a parade night (albeit virtually).
The Air Cadets offer a wide variety of activities for youths aged from 12 to 20 including Flying, Gliding, Shooting, Duke of Edingburgh's Award, Radio, Fieldcraft and many more along with visits to RAF Stations, Air Shows and aviation themed events.
I have attached photos for interest: SQN Crest, full SQN pre-covid, 55 SQN ADCC on parade, visit and assistance at Avro Air Fair, Leadership House (SQN HQ).
Best Regards, 
Michael Wild
Hinaidi Cemetery Iraq.    Initial success for Steve Johnson
Author and Friend of 55 Squadron, Steve (Buster) Johnson, runs the Nr6 Sqn (like 55 Sqn stationed at Hinaidi between the wars) website.   He researched the military graveyard there and discovered, that the site is in urgent need of restoration.
See the Projects section, where Steve writes an update on the situation, having worked hard to convince the powers that be to get the site repaired and has some initial good news.He has also kindly provided us with a list of deceased 55 Squadron members buried at the Hinaidi site, which is posted in the In Memoriam section.
There is a link to casualties under Hinaidi in the Links section.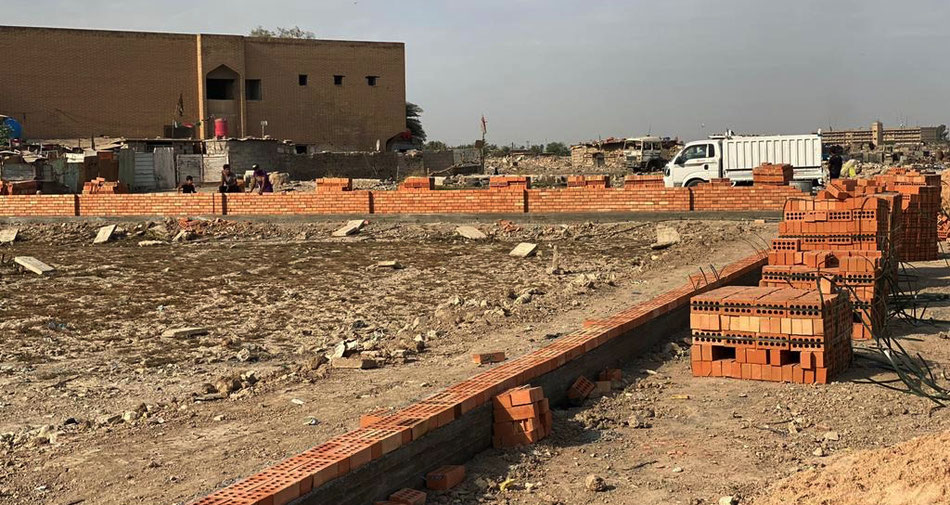 The Squadron Association Banner which was found by Adam Hammett has now been delivered to the Heritage Museum at RAF Marham, where it was received by ex CTs Brian Martin and Steve Parker, who were Crew Chiefs on 55 Squadron photographed here with Adam Hammett inside the museum. 
And photographed outside the Heritage Centre with Gp Cpt Alistair Sutherland, Flight Commander on 55 Squadron and later Station Commander at RAF Marham, who joined the Chiefs for a celebratory lunch.
The banner is evidently hand painted, is in superb condition and may be seen at the museum.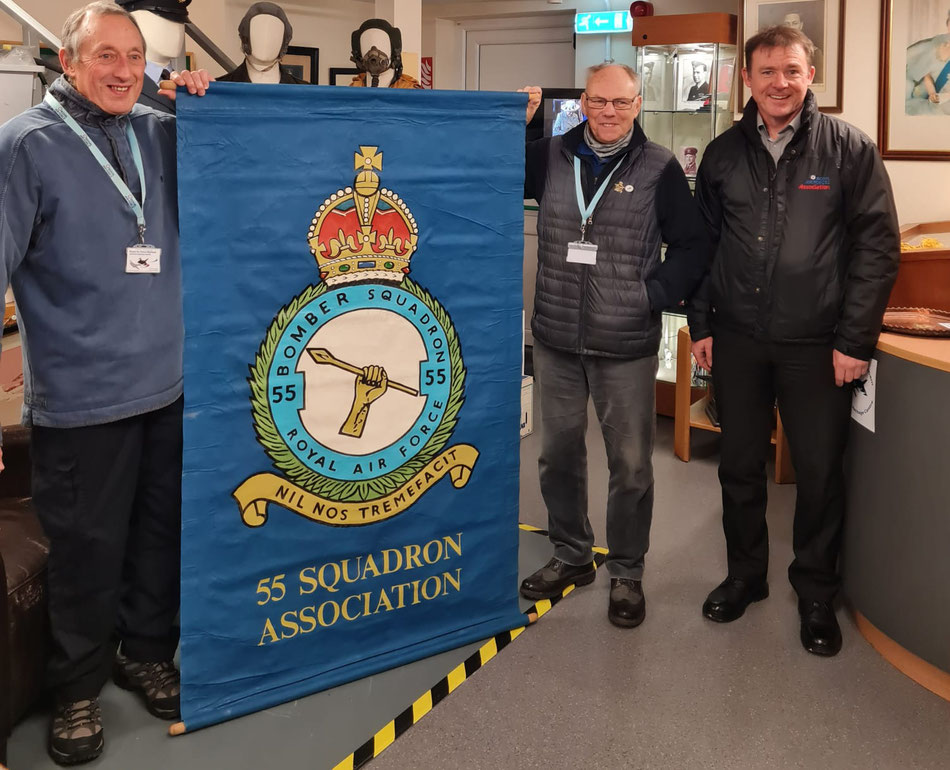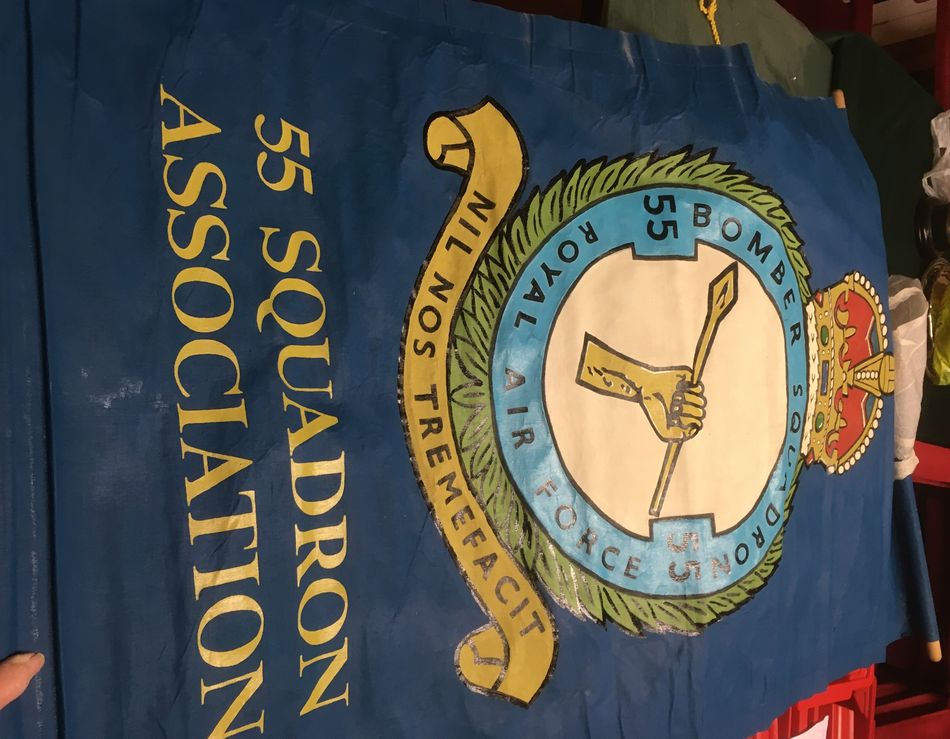 The Original announcement:
We have received the very good news of the discovery of a 55 Squadron Association banner by Adam Hammett, of the RAFA.
It has been agreed, that the banner will be handed to the association to be used at association functions (which we still hope to achieve at some point...) and kept for display at the RAF Marham Museum. Here is Adam's letter:
Good afternoon,
I have recently uncovered a 55 Squadron Association banner (see attached) within a loft space at a property.  It is hand painted onto a heavy duty lined fabric with wooden poles top and bottom with yellow cord for hanging purposes.  I have not measured it but guess it would be around 1m wide with a 1.5m drop.  It has the kings crown so I guess this means that dates it pre 1952 (long before 1952 with the title "55 Bomber Squadron, ed).  I would like to find out more about this item's history and ideally locate a suitable home for it.  Any assistance with groups or individuals that you believe could help me with this I would be most grateful for.
Regards,
Adam
Adam Hammett
Estates Project Manager RAFA

Member Ray Holloway, who is a volunteer guide at RAF Cranwell, informs us of the store of historical 55 Squadron items there, some of which were kept in the 55 Squadron crew room at RAF Marham during active days. 
There is also a research centre opening. In order to arrange a visit please contact new Friend of 55 Squadron, Flt Lt Mike Frankel, the OC;  Michael.Frankel213@mod.gov.uk  who can arrange permission to enter the base. 
Below are some of the items presently on display. Here is a great opportunity for Members and also Friends of 55 Squadron wishing to research past members of the squadron. Many thanks to Ray and Mike for this information.
Faces & Queries section (previously Where are They Now?)  often has something new in it - sometimes people write in with a story, rather than an enquiry, which can still help people to find helpful information.  None of us are getting younger so if you can help with an enquiry or have something to add, please let us know. Thanks.
PS. Have a rummage through your old photos - I just did and was able to solve one query...
The Faces and Queries section is becoming more populated - especially from the time that 55 Squadron was in Iraq, between WW1 and WW2 - good news for for Friends of squadron members wanting to exchange information.  Recent additions: Sgt Ted Ettridge, with 55 Sqn in 1937 "Mesopotamia", Flt Sgt (WO) Albert Harrison, who was cooking at Hinaidi in those difficult days.  The Adjutant and pilot (later) Gp Capt J O W Oliver was with 55 Squadron at Hinaidi.  Air Gunner SAC Leslie Rogers was also at Hinaidi with 55 Squadron. His son in law Ben Lovegrove has an excellent website of his pictures. Details in Faces and Queries and contact via the Friends of 55 Squadron list in the Member section. Also there are quite a few people wanting information about 55 Squadron's time in North Africa and Italy - Boston and Baltimore days and the legendary Squadron Commander Cookie Leon.
Well, perhaps not brand new but new to a few of us - Bob Tuxford  wrote a book a couple of years back about his experiences in the Tanker World,  called Contact!  This includes  Bob's take on the Blackbuck Falklands raids involving great numbers of Victor Tankers and one Vulcan bomber.
Copies are available online and through the Publishers, Grub Street.