Friend of 55 Squadron, Ray Holloway, who is a volunteer guide at RAF Cranwell, informs us of the store of historical 55 Squadron items there, some of which were kept in the 55 Squadron crew room during active days. 
There is also a new research centre opening. In order to arrange a visit please contact new Friend of 55 Squadron, Flt Lt Mike Frankel, the OC;  Michael.Frankel213@mod.gov.uk  who can arrange permission to enter the base. 
Below are some of the items presently on display. Here is a great opportunity for Members and Friends of 55 Squadron wishing to research past members of the squadron. Many thanks to Ray and Mike for this information.
Member Brian Martin, former CT on 55 Squadron, who is engaged with the RAF Marham Air Historical Centre (AHC), is collaborating on  a book about the Tankers at RAF Marham.  He is asking for all stories, anecdotes and photos to make this book a success - particularly about the 1990s and the Gulf War.  Please send your yarns and memories to Brian (on our Member list) or to Ken Delve for the AHC; historian@rafht.co.uk 
Steve Johnson - Friend of 55 Squadron is requesting information from the between wars period concerning two airmen killed in 1932. Full request in the Faces and Queries section.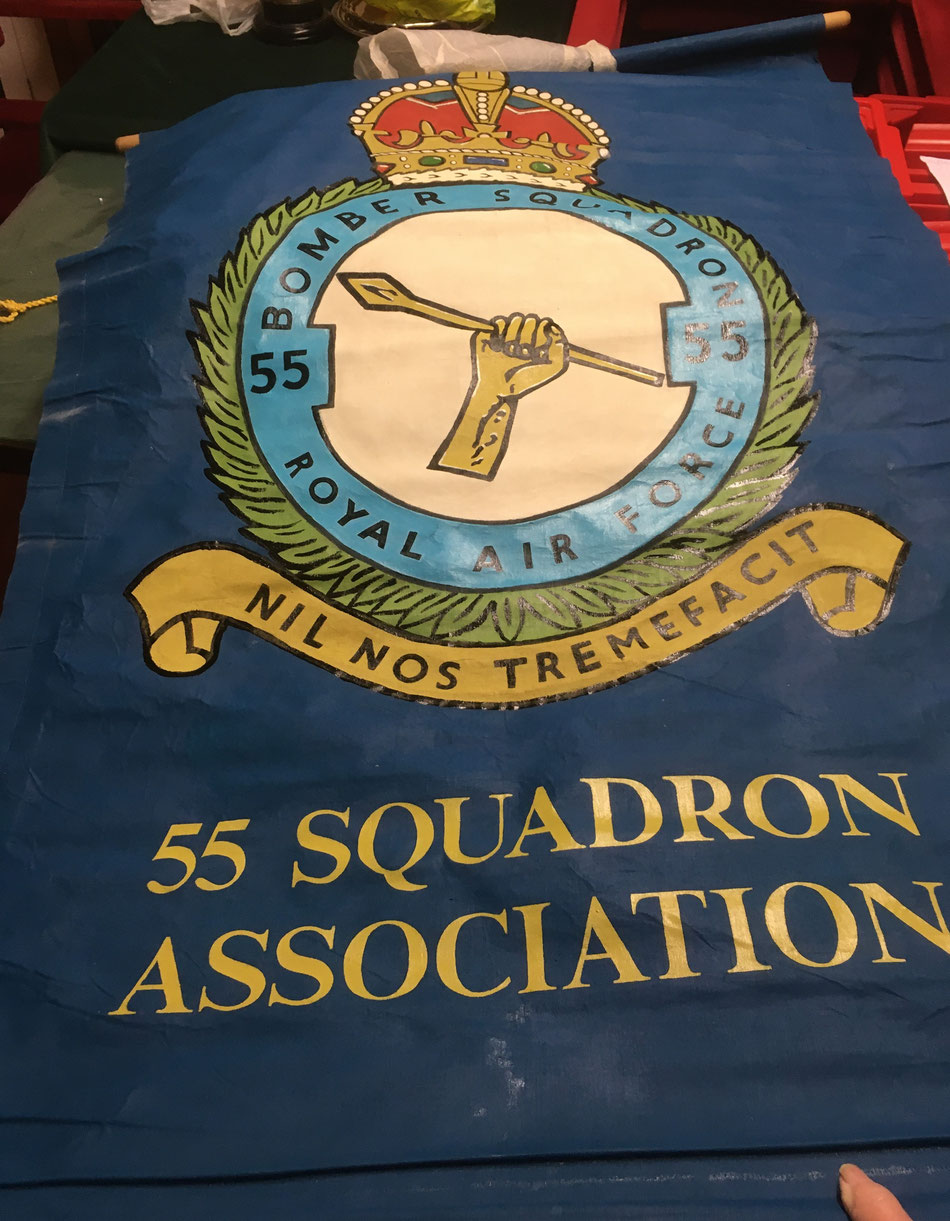 We have received the very good news of the discovery of a 55 Squadron Association banner by Adam Hammett, of the RAFA.
It has been agreed, that the banner will be handed to the association to be used at association functions (which we still hope to achieve at some point...) and kept for display at the RAF Marham Museum. Here is Adam's letter:
Good afternoon,
I have recently uncovered a 55 Squadron Association banner (see attached) within a loft space at a property.  It is hand painted onto a heavy duty lined fabric with wooden poles top and bottom with yellow cord for hanging purposes.  I have not measured it but guess it would be around 1m wide with a 1.5m drop.  It has the kings crown so I guess this means that dates it pre 1952.  I would like to find out more about this items history and ideally locate a suitable home for it.  Any assistance with groups or individuals that you believe could help me with this I would be most grateful for.
Regards,
Adam
Adam Hammett
Estates Project Manager RAFA

We have received the following request from display organiser Stephanie Lawton, from the Solway Aviation Museum.
I ask our Operation Corporate crew members to contact her directly, as below. I am sure, that all inputs, including ground operation stories will be welcome.
Thanks for your help,     Bill.
Stephanie Lawton / Interpretation and Display Officer
Solway Aviation Society,
Aviation House,
Carlisle Lake District, Airport,
Crosby-on-Eden,
Cumbria, CA6 4NW.
UK Charity Registration number 1034715
Company Registration number 2731967
 Operation Corporate
I am putting a display together for next year on the 40th Anniversary of the above Operation, and I am looking for stories from the crews who flew out from the UK in the H.P Victors to Ascension Island, and on the Black Buck Raids.
Also looking for any images of the above.
I would be grateful for any help in my quest.
Stephanie Lawton
Tel: 01228573823                                    Web: www.solway-aviation-museum.co.uk                    EMail: stephlawton2018@gmail.com     
Hinaidi Cemetery Iraq.    Initial success for Steve Johnson
Author and Friend of 55 Squadron, Steve (Buster) Johnson, runs the Nr6 Sqn (like 55 Sqn stationed at Hinaidi between the wars) website.   He researched the military graveyard there and discovered, that the site is in urgent need of restoration.
See the Projects section, where Steve writes an update on the situation, having worked hard to convince the powers that be to get the site repaired and has some initial good news.He has also kindly provided us with a list of deceased 55 Squadron members buried at the Hinaidi site, which is posted in the In Memoriam section.
There is a link to casualties under Hinaidi in the Links section.
Faces & Queries section (previously Where are They Now?)  often has something new in it - sometimes people write in with a story, rather than an enquiry, which can still help people to find helpful information.  None of us are getting younger so if you can help with an enquiry or have something to add, please let us know. Thanks.
PS. Have a rummage through your old photos - I just did and was able to solve one query...
The Faces and Queries section is becoming more populated - especially from the time that 55 Squadron was in Iraq, between WW1 and WW2 - good news for for Friends of squadron members wanting to exchange information.  Recent additions: Sgt Ted Ettridge, with 55 Sqn in 1937 "Mesopotamia", Flt Sgt (WO) Albert Harrison, who was cooking at Hinaidi in those difficult days.  The Adjutant and pilot (later) Gp Capt J O W Oliver was with 55 Squadron at Hinaidi.  Air Gunner SAC Leslie Rogers was also at Hinaidi with 55 Squadron. His son in law Ben Lovegrove has an excellent website of his pictures. Details in Faces and Queries and contact via the Friends of 55 Squadron list in the Member section. Also there are quite a few people wanting information about 55 Squadron's time in North Africa and Italy - Boston and Baltimore days and the legendary Squadron Commander Cookie Leon.
Well, perhaps not brand new but new to a few of us - Bob Tuxford  wrote a book a couple of years back about his experiences in the Tanker World,  called Contact!  This includes  Bob's take on the Blackbuck Falklands raids involving great numbers of Victor Tankers and one Vulcan bomber.
Copies are available online and through the Publishers, Grub Street.
The career of (initially) LAC Tommy Hopps, 55 Sqn (below) has been documented by his son Richard Hopps, who has kindly supplied a treasure trove of photos in and around the squadron during the Desert Campaign during WW2. There is a request for information from Richard in the Faces and Queries section and also a link to all the historical shots.
Victor Gate Guard to be Given Away
The Victor K2 Gate Guard at RAF Marham is costing too much to keep in shape and is being given away...  Below is the address of  the Eastern Daily Press article with details. If you have any ideas - or a big garden and a large trailer, please let me know.
https://www.edp24.co.uk/news/raf-marham-offering-free-victor-jet-1-6504843
The info comes via Eric and Audrey Anstead and Nobby Clarke's wife Jenny. Thanks, Bill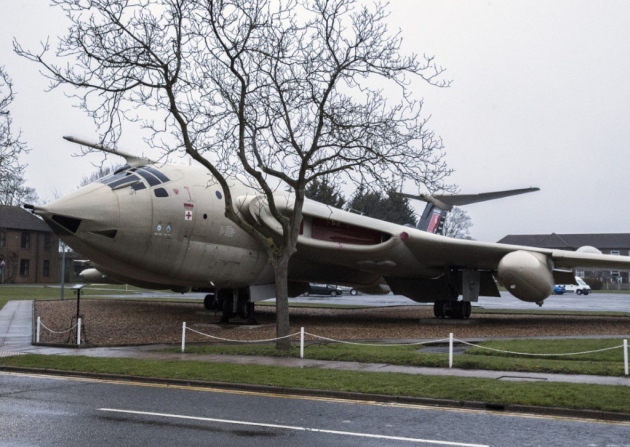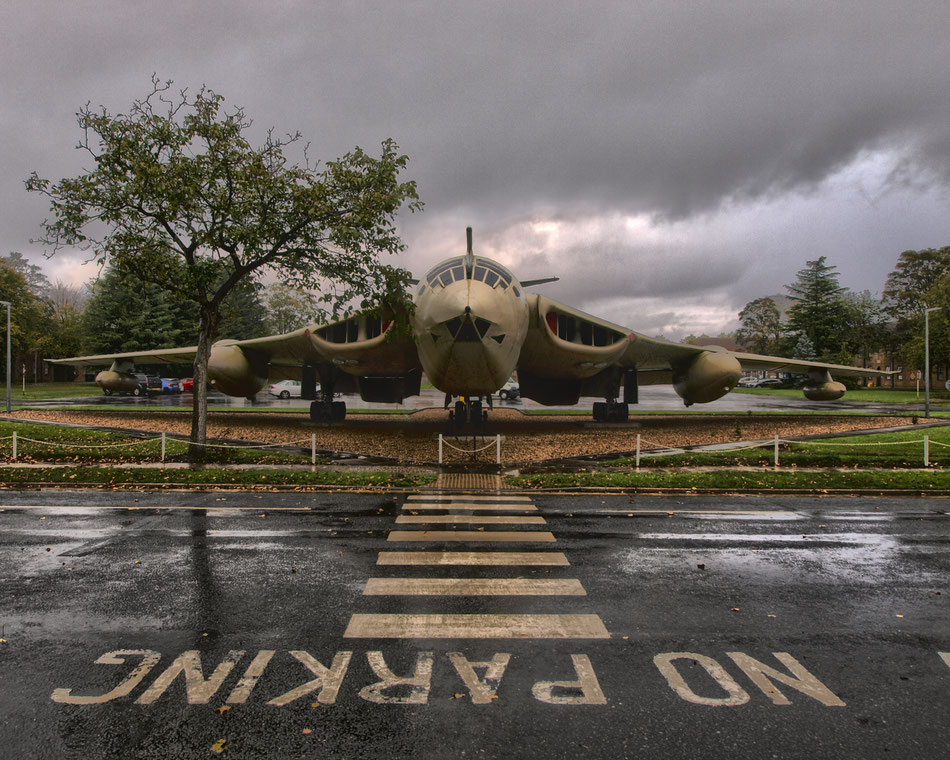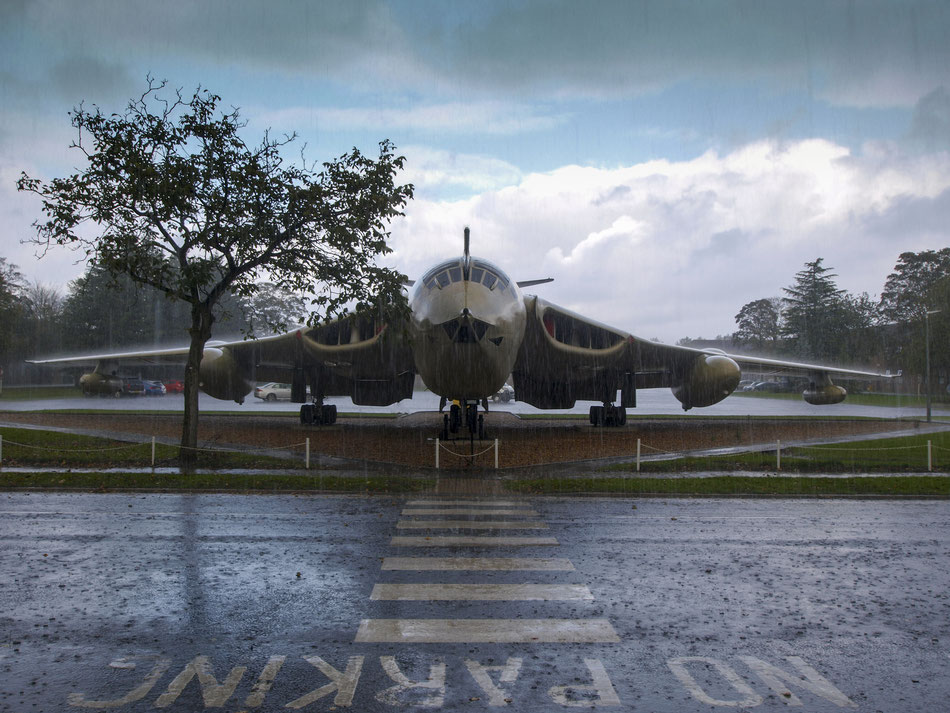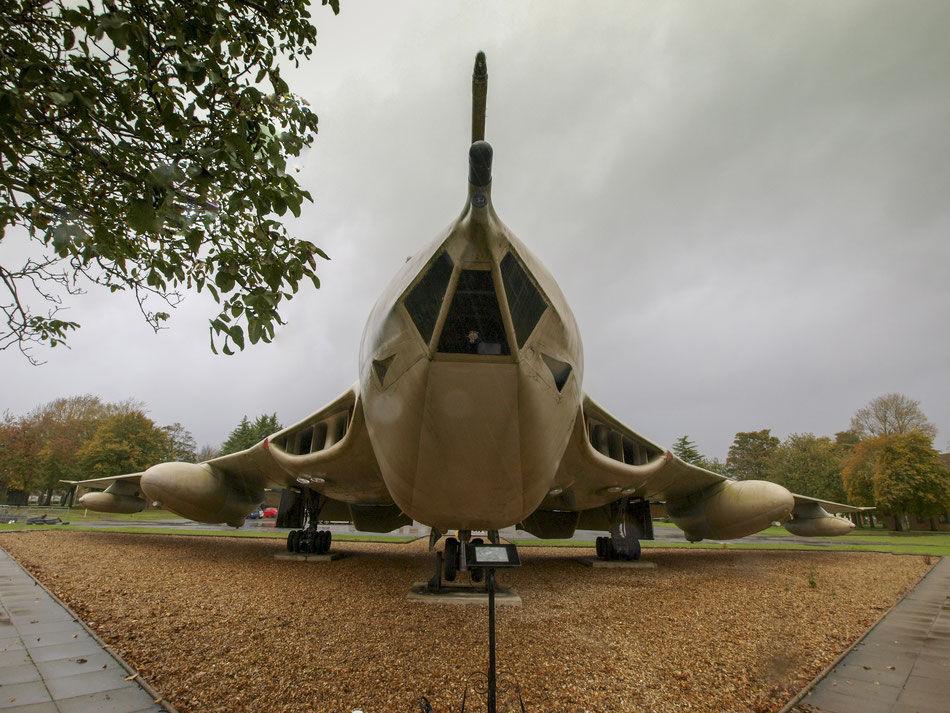 These three evocative shots come from John Brown, who writes:
"...  about the demise of the gate guardian at Marham?  They had a farewell tour last Saturday and I took the enclosed pictures.  All rather sad.
John"
Member list changes: We now have 80 names on the Member list and also have the Friends of 55 Squadron list, which includes people who have a connection to the squadron through relatives or events from the past. We have over 20  people on the Friends list. You may contact anybody on either list if you have the password to the Member section.
Have a read through the rough list of names at the end of the formal Member list, to see more exactly who everyone is.
Success with the Payton enquiry on our Where are they Now? Section!  Check out the reply from Air Gunner Wright's daughter Janet, with additional photo...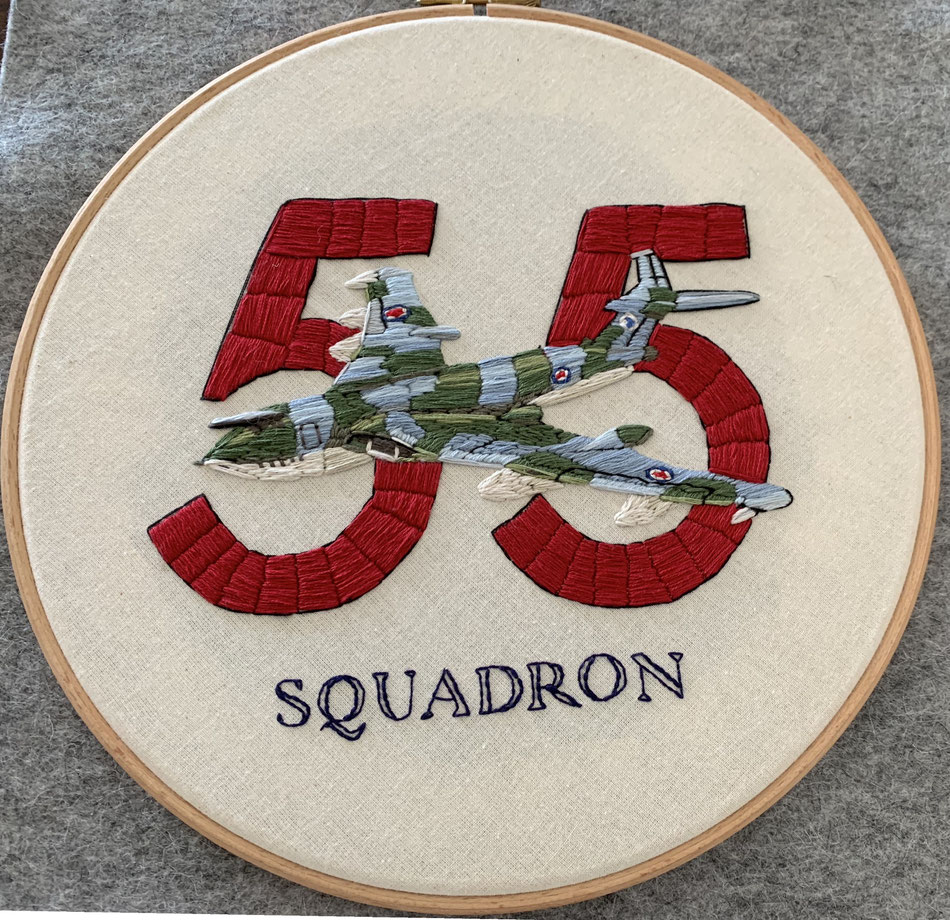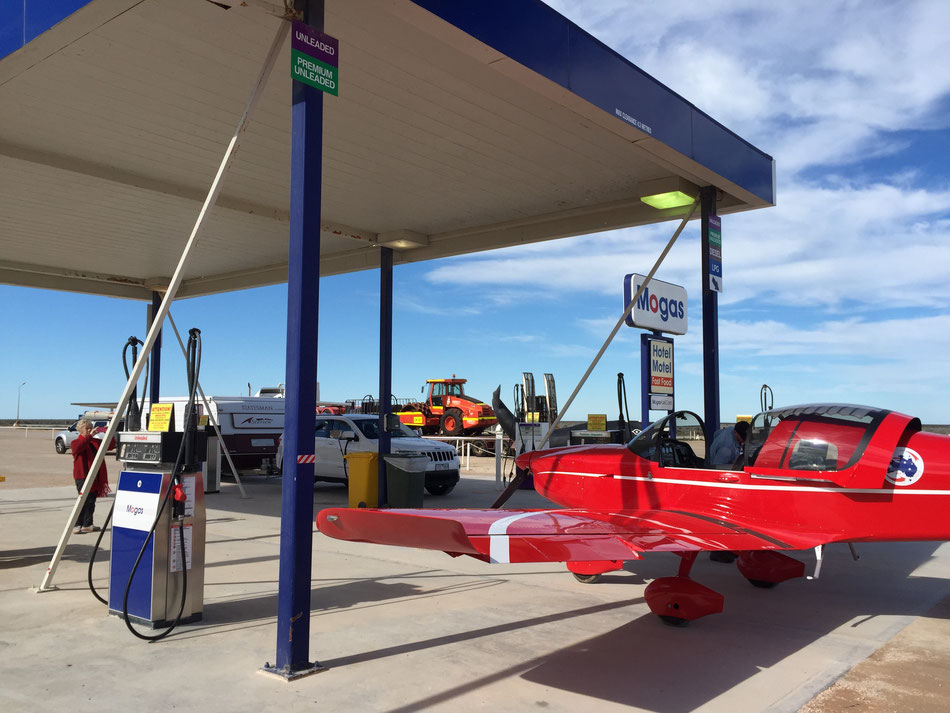 Video: Blue Spear - the Movie, filmed and produced way back is now on line in our Videos Section. Enjoy and don't take it too seriously! Project was led by SAC Pete Burns, who had connections to TV video makers and the 55 Sqn Cdr is played by Simon Harris, who later became Air Cdre. so it did him no harm... The sound has faded a bit over the years.

Projects: We have a new page called Projects where renovation and re-run items will be presented. Presently we have:
Information and an appeal from Barry Masefield  - about the renovation project for the Victor simulator and also
Up to date information - also an appeal from the website of the Imperial War Museum about the renovation of XH 648 at Duxford.
Regarding the latter - I have tried to get Duxford to agree to having the 55 tail badge restored but they want to restore it as a 57 ship, as it originally was, when a bomber.
Squadron History:   Gary West, has sent a large file of typewritten documents, which is a compilation of the Squadron history from 1916 to 1986, by A. Butterworth.
The document is  well worth a read. Within the History section there are now sub pages for the Chapters of this document.

Also, as the pages are rather slow to load, the whole document (over 250 pages) is available on Google Drive in pdf format, for viewing or downloading.
There are links to do this in the History section and in the  Links Section, which take you directly to the 55 Sqn History 1916 - 1986  file on Google drive.
Brooklands Event:
100 years since Alcock and Brown's historic first non-stop flight across the North Atlantic - and 50 years since the commemorative Daily Mail Air Race in which 55 Sqn Victor Tanker crews were very much involved.
To celebrate the occasion, the staff at Brooklands Museum organised on 8.May 2019 a  reception for participants in the Daily Mail event in 1969 (itself the 50th anniversary of the famous crossing.)  We managed to contact a few worthies from 55 Squadron, who had been involved in the event and all duly turned up at 08:00 on a rainy cold day in time for breakfast with other past participants from various categories - and a visit to the reconstructed Vimy and the Harrier in which Lecky Thompson made his (many times refueled) crossing.  While there, we of course visited the other fine exhibits at the Museum - including a Vickers Vanguard, which member Gary West had landed there a good few years back on the shortened runway. The brakes are still hot...
Colin Griffiths has made some good shots of the event and these are now posted under Daily Mail Transatlantic Air Race  along with recollections by Keith Evans and Colin Seymour in the Tanker Stories section.
Also in May 2019, Bob Tuxford writes;
"I shall be powering XM715 down Bruntingthorpe's runway as usual at the May bank holiday Cold War Jets meeting, with Mike Beer in the back to keep an eye on the electrics and hydraulics!"  This will be on 26th May - and for those wanting more, again on 25th August.
See his report of last year's run below.
The Member List - As of October, 74 names on the list  - In order to get more information onto this list, we have put the wording from the application forms in a "Who is Who?" immediately following the formal list. This is in pretty much the reverse order of applications - newest on top. In some cases it is basic info - in others there is a story. Good news is that quite a few of our ground crew Members are applying. Certainly one of the big plusses of being on 55 was the autonomous squadron system. It may not have saved money but it formed a big family and was probably more efficient just due to that atmosphere. Nice also to see that we are getting members from the 55 (R) Squadron days, so the family is increasing...
Tanker Stories section.
First a comprehensive look at an overseas exercise recalled by John Brown. This should jog some memories.
Then action! A Falkland Islands War bombing raid, Black Buck 1:
Bob Tuxford describes his experience as long distance final Victor tanker captain and
Dick Russell contributes his memories of being seconded as receiver expert to the Vulcan bomber during this raid.
Transatlantic Air Race stories also in here.
35 year Raid Anniversary  - Falklands war, Operation Black Buck 1.  Event held at Bruntinthorpe aerodrome. Pictures and report by Bob Tuxford below. Click on the pictures for some great enlargements
100 year 3. Battle of Ypres Anniversary - The 55 Squadron RFC crew of  2nd Lt William Bishop and  Lt Douglas Mackintosh was shot down in Belgium in October 1917.  There was  a memorial held there on 22. October 2017. Details under 55 in the First World War  Period Newspaper shown below.

Website address -  As well as 55assoc.com  the old 55squadronassociation.jimdo.com address still brings you to the same site.
Your email address - Has your email address changed from the one on the Member list? Please let us know!!
Mail Chimp Distribution List - If you are registered on our Member list, we send out multiple emails from time to time using the Mail Chimp distribution service. The mails will appear to come from 55assoc.web@gmail.com which is a valid address belonging to the webmaster. Quite possible these mails will land in your Junk folder at first.  We see that about 80% of the mails get opened, which means that 20% of you are missing out. You can trust our distribution service!
100 years ago... The air battle described at the bottom of the following page is shown in more detail in the 55 Squadron in the First World War section. A Centenary service event was held in 2017, which is described with photographs in the Member section.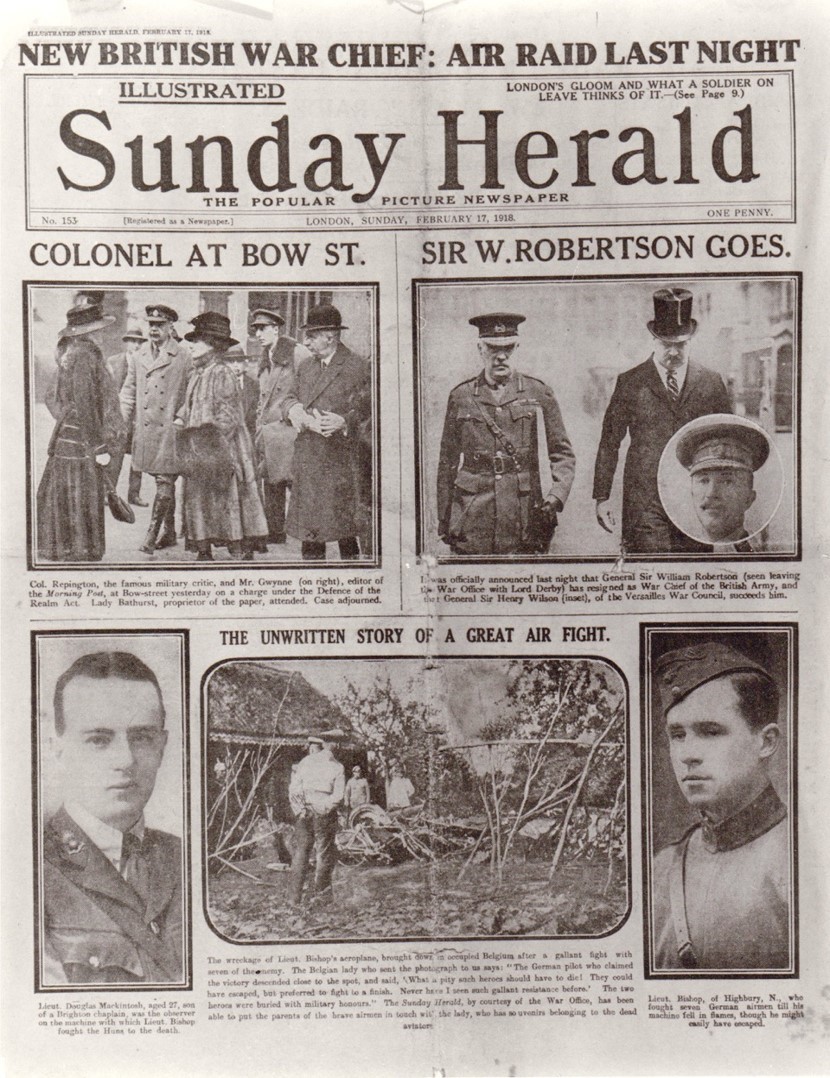 55  Squadron  related  Events                                                                                                       75 years since Whittle Jet Engine flies
35 Yr. Anniversary - Black Buck 1
On the 30th April 1982, the RAF mounted an iconic operation under the codename 'BLACK BUCK 1' from Ascension Island in the South Atlantic. The mission was to signal the first offensive air action against the Argentine Invasion forces which had occupied the Falkland Islands at the onset of the Falklands War. On Sunday 30th April 2017, Bruntingthorpe Airfield in Leicester, home of the Cold War Jets and Victor K2 XM715, hosted a 35th Anniversary of Black Buck 1 in celebration of one of the RAF's most daring raids.
The weekend saw the largest gathering of Black Buck veterans since 1982. Amongst those invited to a reunion dinner on the Saturday evening was the former Air Officer Commanding of No.1 Group, Air Chief Marshall Sir Michael Knight KCB AFC. On the day of the anniversary, a group photo shoot of participating aircrew, operations and engineering staff was taken in front of XM715. Following this, three members of the original 'WHITE 2' Black Buck crew, Bob Tuxford, Glyn Rees and Mike Beer gave a taxi and high speed demonstration run in the Victor. Representing his father Ernie Wallis (Bob's Navigator Radar during Black Buck 1), Tony Wallis had the privilege of riding along on this very special occasion. On the runway, the simulated take-off was abandoned and brought safely to a taxi speed using the impressive brake parachute and clam shell airbrakes at the rear fuselage – a sight guaranteed to get the cameras clicking by the assembled guests and ticket holders positioned near the end of the runway.
After taxiing the aircraft back to the dispersal area, the operating crew gave a presentation inside the adjacent Whittle building. Mike Beer opened proceedings with an overview of the build-up to Operation Corporate, the deployment of Marham's tankers to the South Atlantic, and an insight into life for the aircrews on this remote volcanic island base. Three intelligence gathering MRR missions were undertaken within the first week of arrival on Ascension Island, and these sorties provided a valuable insight into what was to follow.
Bob Tuxford gave a detailed breakdown of the eventful Black Buck 1 mission. In a nod to the original briefing made on the open breezy airfield inside the flapping walls of the tent, Bob's presentation was poignantly interrupted by his mischievous AEO shouting down a megaphone from the side lines. Fond memories came flooding back to the amused assembled veterans. Glyn Rees wrapped up the show with a few personal recollections of life on Ascension Island and the Falklands. Refuelling support for the Hercules and Nimrod aircraft was covered, along with his experiences with the wide body TriStar tanker and cargo aircraft which became the mainstay of the South Atlantic Air Bridge.
The whole event was an unbridled success, and thanks must go to the Walton family who generously support the Cold War Jets collection at Bruntingthorpe Airfield. Particular thanks must also go to Brendon Johnston, who can take the credit for the idea behind the whole event (and much of the airfield preparation), and to the band of volunteers who dedicate their time and efforts towards the preservation of Teasin' Tina, Victor K2 XM715.
As written for FlyPast by Sqn Ldr Bob Tuxford AFC RAF
(Capt of 'White 2' Black Buck 1 crew)
55 Centenary Dinner
in Cambridge and visit to Duxford:

Official and private photos are now all in the Gallery in Members' section.